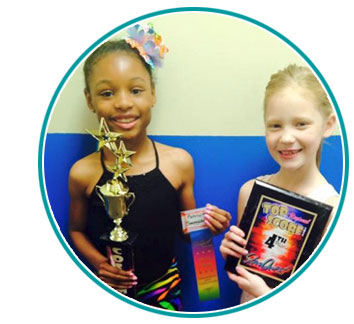 ABOUT US
Dance Central, LLC formed in 2003 in Cypress, Texas by owner Danielle Shoaf. Danielle's vision was to create an organization and place where dancers could learn, grow, build confidence and foster the love of dance. Dance Central works with passionate teachers who care deeply about their students and who continuously challenge themselves to fine tune their craft. Read below to learn more about our instructors and why they love dance.
Many of our dancers call Dance Central their "second home." We are proud to have a place where our dancers love to come. We care as much about the heart of the dancer as we do the technique cultivated within that dancer.
Dance Central offers many types of dance, from ballet to contemporary and hip hop, to children of all ages. Visit our Classes page to learn more. For those that want to take their performance and technique skills to the next level, we offer our Dance Central Company classes. Learn more here about our Company competition team.
Interested in trying out Dance Central? Then Step into the Spotlight! Call the office at (281) 304-9282 to sign your dancer up for a free trial class and get to know us.

Meet Our Faculty
DANIELLE SHOAF • Owner and Director

Raised in Houston, Texas, Ms. Danielle began her dance training under the direction of Kay Bily. Ms. Danielle received a Bachelor of Science in Dance Management from Oklahoma City University. While at OCU she trained with Jo Rowan, Lyn Cramer, Liz Reiter, Richard Denson, and Kay Sandal, studying tap, jazz, ballet, and musical theatre. She was also a member of the American Spirit Dance
Company and Spirit of Dance Liturgical Company. Being a member of these companies, she had the opportunity to tour Singapore, Malaysia, London, and Las Vegas. After graduation, Ms. Danielle worked for Lyric Theater in Oklahoma, then returned to Houston to work in the public relations department of Houston Ballet. She continued to teach at several studios in the Houston area, until she decided to open Dance Central, LLC in March of 2003. Ms. Danielle is a member of Texas Association Teachers of Dancing and continues to take classes and attend conventions. Ms. Danielle currently lives in the Cypress area and is married to Shane Shoaf. They are the proud parents of Oscar, Nyla, Oliver, and Agnes!


BERNADETTE PATTEN • Instructor

Bernadette Patten has been teaching ballet, pointe, jazz and lyrical at Dance Central since 2006. She is originally from the San Francisco Bay Area, where she trained with Olga Ziczeva and Richard Gibson in ballet and Berle Davis in tap, jazz and musical theater. She earned her Bachelor of Arts degree in Theater Arts from San Francisco State University. In New York, she studied jazz and musical theater from Ron Forella and ballet with Don Farnsworth for four years. Her performing credits include West Side Story, Dames at Sea, Once Upon a Mattress and Pal Joey. She has toured with Plexus Dance Company in Ventura, CA and was a soloist with Ballet Hysell in New Orleans and Beresheet Ballet in Houston. She has attended the Cecchetti Council Seminar for Teachers of Ballet, the Oklahoma City University Teacher Training Seminar, Mia Michaels and Brian Friedman's The PULSE Tour and the Dance Teacher Summit in New York in 2015. She taught dance and theater arts at Gregory-Lincoln Middle School in HISD, a performing arts magnet school for three years and created and directed the dance program at Cornerstone Academy for eight years in Spring Branch. Her choreography credits include Annie, Cinderella, Fiddler on the Roof and Into the Woods. Other artists and teachers that have inspired her unique style include Roland Dupree, Bob Fosse, Lester Horton and the Alvin Ailey School in New York. As she shares her love of dance with her students she continues to study and attend ballet and jazz classes in Houston. She takes class regularly no matter what city she is visiting; San Francisco, New York, Los Angeles, Boston. Ms. Bernadette believes in life long learning and that we are students and teachers at the same time. She exudes perpetual joy and enthusiasm for dance which is contagious. Students sense her happiness during dance classes and discover new joys in dancing for themselves. She is grateful for the energy she receives when she is teaching. Her students inspire her. She loves her students unconditionally and LOVES to dance. Nothing makes her happier than the beginning of class and the plie exercise. It feels like home.


LULU SANTOS • Instructor

Lulu Santos has proudly been on staff at Dance Central for 14 years, working closely with the competition and performing company. She has been teaching to all ages and levels of dance in area preschools and studios throughout her career, specializing in jazz, contemporary, & hip-hop. Ms. Lulu has danced for several performing companies including Houston Metropolitan Dance Company, Uptown Street Dance Company, Swingtown Jitterhoppers, Frowbiz, UH's University Dance Theater, The Filipino-American Dance Troupe, and Disney's Big Red Boat. She has been chosen by fellow artists to perform in concerts such as Dance Salad, Dance Houston, and Choreographers X 6. Some of Ms. Lulu's favorite performances have been with The Brian Setzer Orchestra at The Cynthia Woods Mitchell Pavilion, as well as the pre-show galas of Superbowl XXXVIII. She is the proud mother of two Dance Central alumni, Kayla and Cameron Pierson, and is married to our local celebrity Cavalier, Mr. Shawn. More than laying down choreography, Ms. Lulu loves raising her students in the world of dance and cherishes every new bond that she makes with these amazing humans and artists.


ANDEE WILSON • Instructor

Ms. Andee Wilson has trained in ballet, tap, jazz, lyrical, pointe, musical theater, and hip hop. She has been motivating children and passing along her love of dance since she was 16. She has taught students ages 3 through adults in recreational and competitive classes at studios, private schools, after-school programs at daycares, and for drill teams in the Houston area. As a member of the nationally acclaimed dance team The RhythmMasters, she won numerous awards for solo, duet/trio, and ensemble routines, as well as student choreography recognition under the direction of Angela Wright-Pineda. She received scholarships from Dance Educators of America, and "I Love Dance" Pageant and Dance Competition to study in New York and Las Vegas multiple times. She was also named Miss Teen Dance Educators of America when she was 13. Andee performed on the Riverwalk in San Antonio for the Pan American Student Forum, in the NFL Pro Bowl Halftime show, and the NCAA Citrus Bowl Halftime show, as well as in local parades. Andee's choreography has won on the regional and national levels and has received entertainment, choreography, and overall high-point awards. She has also been honored with several Top Teacher acknowledgements. Her students have gone on to receive scholarships to pursue dance in college and conservatories.

"There is something magical about seeing a child successfully achieve a step I taught them. My students motivate me every day; they push me to be a better teacher and role model. I love watching them light up on stage or donning the biggest smile after they learn something new. Teaching dance is my true passion and I believe I have the best job in the world!" Ms. Andee found her love for dance when she was 10. "I was lucky enough to find a teacher who asked me to give her 110% effort in everything I did. I strive to instill this work ethic in all my students."

Ms. Andee believes that many life lessons can be taught in the studio - not just dance. "I love that responsibility, determination, teamwork, and building confidence are all aspects of their training. I hope they carry these skills with them throughout life. I hope I touch my students' lives in the same way they've touched mine. I am beyond blessed to be teaching at Dance Central. We are a true family, working towards one goal: for our students to learn and appreciate the true art of dance. I look forward to many more magical moments!"

Andee has a Bachelor of Science in Biology from the University of Houston. She and her husband Mark have three sons, Connor, Colton, and Carver.


COOPER FLANAGAN LITTLE • Instructor
Cooper Flanagan has danced for 18 years, participating in all genres of dance from the beginning. She has danced for several dance studios on their competition teams, placing consistently in the Top Ten Overall categories for most of her dance career. Tap is her favorite of all dance genres, and she is accomplished in Jazz, Musical Theatre, Ballet, Contemporary, Hip Hop, Lyrical, and Modern Dance. She has won numerous scholarships and titles at National Dance Conventions/ Competitions such as: Hall of Fame Top Studio Dancer, Starboard Top Senior Soloist 2013, JUMP VIP FINALIST, LADM Finalist, Shock the Intensive Winner, and multiple tap and jazz scholarships.

After graduating high school, she studied at the American Musical and Dramatic Academy (AMDA) in LA before finishing her degree at AMDA's campus in NY. Her choreography can be seen in the dance competition circuit where her students have won numerous awards on both a regional and national level, and she teaches private clients in NY on a regular basis. She can also be seen teaching at various dance studios throughout New York City. She has worked with and performed exclusively with the TapKids Touring Company and is a part of a new up and coming tap company in NYC known as Caston & Co. She was the Assistant Choreographer and featured dancer on the Broadway Dance Center GREASE LIVE Promo.

Cooper has made her commercial choreographer debut as both the choreographer, creative consultant, as well as back-up dancer for Daniel Joesph Baker who has been seen on America's Got Talent, progressing to the semi-finalist round. They have performed at the AVP Fusion Event as part of PRIDE week as well as at the Rooftop Monarch where other notable artists such as Lady GaGa and Laurieann Gibson have also performed located in the heart of NYC.

Currently, she can be seen auditioning in NYC and assisting some of the industries finest such as Lisa Stevens, Lizz Picini, and Mark Goodman at Broadway Dance Center and at multiple touring dance conventions such as Broadway Bound International. She was most recently on faculty as their "Contemporary Extraordinaire" and has worked with the cast of Aladdin through BBI. Cooper most recently made her NYC Assistant Choreographer debut at the Broadway Dance Center Student Showcase as she assisted her mentor and dear friend Lizz Picini in choreographing the Opening Number. She most recently signed on as an Assistant Dance Instructor at Broadway Bodies located in the heart of NYC and is currently training to be an instructor for this upcoming season.

At the present time she can be seen auditioning around NYC, assisting, and working on various up and coming projects. Her dream is to perform in a major dance company, on Broadway, or in some other way in the dance industry. Cooper has been long tutored by Andee Wilson, Lisa LaTouche, Mark Goodman, Jason Janas, Aaron Tolson, Nijawwon Matthews, Jon Engstrom, Lizz Picini, Lisa Hopkins, Michelle Elkin and Lisa Stevens.

EMILY TANNER

•

Instructor

Emily Tanner graduated with a degree in dance performance from Oklahoma City University in 2014 and has since stayed busy performing and teaching all over the world. Immediately following graduation, Emily was cast as a Rockette in the Radio City Christmas Spectacular. Following her Radio City debut, she danced for Oceania Cruises as the lead female dancer and dance captain all over South America, Alaska, and the Caribbean. She then performed as the on-stage swing for the original production of CATS aboard Royal Caribbean's Oasis of the Seas. Following her CATS experience, Emily made her hometown debut here in Houston at Theatre Under the Stars in Mamma Mia! Most recently, she performed in Mr. Magoo's "A Christmas Carol" in NYC, a benefit concert to raise money for the Actors Fund. During each contract, Emily has taught master-classes to share her joy and knowledge of dance with students of all ages. Emily is also a NASM certified personal trainer and is currently creating a strength conditioning program to help support dancers to stay strong and healthy.

DEBBY OBERLY

We couldn't begin the next dance year without Ms. Debby. Ms. Debby has devoted her entire life to children. She has worked at several day cares and Montessori schools. Ms. Debby is the proud mother of two daughters and six grandchildren, Devon, Ava, Lucas, Oscar, Nyla and Oliver. If you have any questions please don't hesitate to ask her! Ms. Debby will be working in the office several days a week! We are so grateful that she is back!


SHANE SHOAF

Shane Shoaf received a Bachelor of Science in Technical Theater from Oklahoma City University. During the day Mr. Shane works as the Meeting Technology Analyst at Phillips 66 and during the evening he helps Ms. Danielle at Dance Central! We wouldn't have the wonderful sets, props, and many more of the technical aspects of our performances without Mr. Shane!